Voyage of the Dawn Treader
Written by C.S. Lewis
Reviewed by Spencer F. (age 7)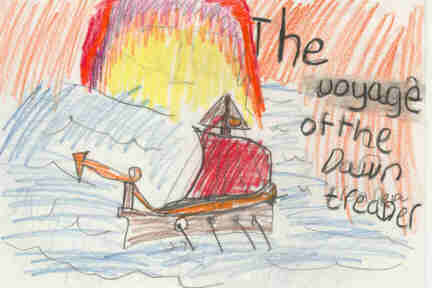 Imagine having to stay with your worst cousin. He always teases you about things, and he never believes the things you say. Then you see a beautiful picture of a ship, and you smell the sea. Suddenly, you find yourself aboard The Dawn Treader. The Dawn Treader has to go through dangerous phases like battling a sea monster, and sailing past an island where your worst nightmares come true. Even though there are freaky times, the children survive.
I thought the book was great because it had lots of magic and adventure. My favorite part of this book was when Lucy went into a magician's house to search for his magical book of spells. She had to find a certain spell that made the invisible Dufflepuds visible again. Lucy was terrified on her quest, but she succeeded.
This book is part of a series of seven books about the land of Narnia. It is different because this book takes place on a ship (The Dawn Treader), and the other books take place on land.
I would recommend this book because there are some surprising parts in it. It is a very exciting story.