Parts
Written by Tedd Arnold
Illustrated by Tedd Arnold
Reviewed by Eric L. (age 7)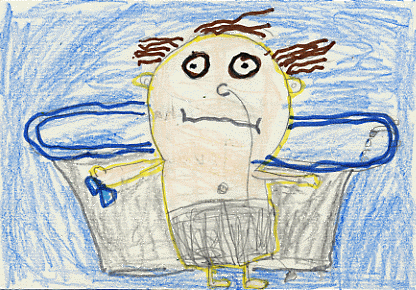 Have you ever felt that you were falling apart? This is a story about a boy who thinks his body is falling apart. One day, when he was combing his hair, he saw some hair on the comb and he starts to think he?s going bald. Another day, he sees some fuzz in his belly button and he thinks his stuffing is coming out. The boy is freaking out! Finally, he sees that when he?s taking a bath, something green, wet, and slimy comes out of his nose. He thinks he?s losing his brain. The boy?s parents let him know he is not falling apart, he?s just growing up.
I like this book because it?s very funny. It reminded me of the time I lost my first tooth. I thought I was never getting a new tooth. The illustrations are hilarious.
I would recommend this book to all kids that are growing up. It?s a great book!