"Here I Am!" said Smedley
Written by Simon Puttock
Illustrated by Martin and Ann Chatterton
Reviewed by Jackson G. (age 8)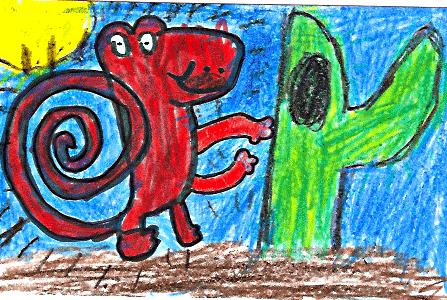 Smedley is a chameleon who is very shy and is almost always blending in. Then there is a new girl in class named Sally Skinky. She tells Smedley that he could enter the Big City Art Exhibition and win the big prize! You'll have to read the book to see what happens next.
I picked this book to review because Blue Banana books are fun. Smedley is very good at turning different colors. My favorite picture is when Smedley looks like a tropical sunset. It soothes me a lot because I love tropical sunsets. I don't like it when the big girls tease Smedley. It's mean to tease. At the end of the book they cheer for him and stop teasing him and I feel happy for Smedley.
If you like artwork with spots, stripes, and designs, you should definitely read this book. I recommend this book for kids five to nine years old.