The Magic School Bus Lost in the Solar System
Written by Joanna Cole
Illustrated by Bruce Degen
Reviewed by Bryce L. (age 7)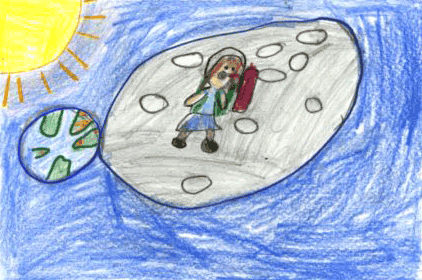 This is an interesting book that is fiction and fact. It is a fact book because you learn a lot. Venus?s clouds don?t make rain, and between the inner planets and the outer planets it is called the asteroid belt. It is fiction because nobody could fly in a school bus!
Ms. Frizzle?s class went up in space and my dad works for a Space Center. I got interested in space the Christmas when I was six, when I got a space model from my dad. Ms. Frizzle is an unusual teacher. She?s odd and interesting and likes to see things close up. Ms. Frizzle wants the fieldtrip to be real. My favorite fieldtrip was to the Art Museum. It made me want to be able to draw like that when I grow up.
My favorite kid in Ms. Frizzle?s class is Janet. She will make you want to read her speech bubbles again and again! I have read them so many times that I memorized them! Janet is a brag, brag, bragger. I am very happy that Janet is not in my class.
The illustrations are so helpful that you could figure out almost everything without the writing! The notepages give you lots of interesting facts. I learned that the sun is so hot it can heat planets millions of kilometers away.
I recommend this book to people who love space. It would make a good book for any time of the day. You learn a lot from this book, and the story is really funny.