Staying Nine
Written by Pam Conrad
Illustrated by Mike Wimmer
Reviewed by Zishan Q. (age 11)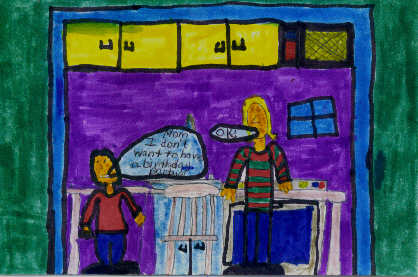 Staying Nine is about a girl named Heather. She wants to be nine years old forever and doesn't want to change. She didn't want to have a birthday party because she thought she could stay nine if she didn't have a party.
One day Heather looked at her school picture from last year. She thought of wearing the same thing, but she promised her friend Dorelle she would wear the exact same thing Dorelle will wear on picture day so they looked like twins. The night before picture day she wore the same thing as last year.
Her friend was mad at her the next day when she saw her. Find out if Heather will stay nine forever by reading the book Staying Nine.
I liked the book because some people do want to stay young forever. The book is easy and fun to read. Staying Nine is a funny book too because she thinks she can stay nine forever. The plot is really good. I liked the way the author wrote the book; it really catches people's attention. The book illustrations are pretty good. These are reasons why I liked the book. Tell me your opinion of the book after you read it.
I recommend this book for ages 7 and up. The book is mostly easy to read. If you like silly and funny books then this book is for you.