My Louisiana Sky
Written by Kimberly Holt
Reviewed by Emma G. (age 10)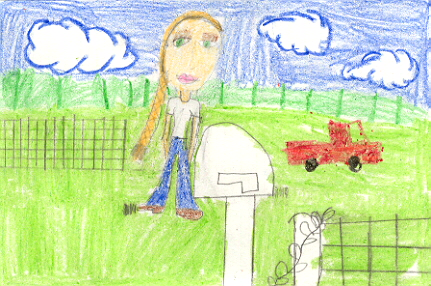 "My Louisiana Sky" is about a girl named Tiger. But before I say anything you must know that Tiger's parents are mentally challenged and they are always embarrassing her. She is named Tiger because when her mom was little she had a cat named Tiger. Tiger has a granny from whom she learns a lot. One night before granny goes to sleep, Tiger comes in and sees her rubbing her arm in pain. The next day granny goes out to garden while the rest of the family is inside when all of a sudden they hear a thump. Tiger's mom, Corrina, rushes outside and Tiger and her dad hear an ear splitting scream. They run outside just in time to see granny lifeless, and soon enough they figure out that granny has died of a massive heart attack. Tiger's aunt and Corrina's sister come over to their house and offer Tiger an offer that is difficult to resist. Her aunt offers to take Tiger to Baton Rouge, Lousiana to live with her. Will Tiger take it or leave it?
This book is one of my favorite books because I have a lot of connections. Tiger's parents are mentally challenged. So is my sister. Tiger gets teased because of her parents' disabilities. My sister does too. Another reason why I like this book is because it's interesting, it's deep, and moving. It makes you feel like you're in the book, like you are one of the characters. It does this by description and detail.When granny dies, the author describes how the characters look and feel. "My Louisiana Sky" teaches me that you should not judge people by what you see on the outside.
I would recommend this book to anyone who likes a touching, or a moving book about one girl who learns a valuable lesson about life and peer pressure.