Abuela's Weave
Written by Omar S. Castaneda
Illustrated by Enrique O. Sanchez
Reviewed by Ivan A. (age 10)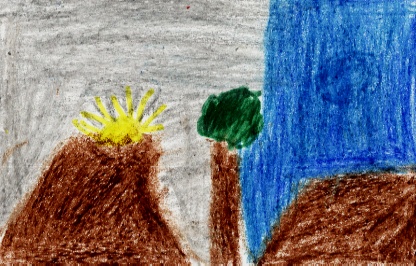 Once upon a time a girl named Esperansa was helping her grandma make clothes for la fiesta del pueblo (the town's party). Esperansa and her grandma worked day and night. The day came and Esperansa had to go to the town. She got on the bus, but when she got to the town, she went to the market and didn't find a space to sell her goods. And I'm not going to tell you the rest! You will have to read it for yourself.
I like the book because it shows you that you should help your grandma. This story is special for me because I live with my grandma and I take care of her like Esperansa takes care of her grandma. I like the part when one night Esperansa and her grandma were working to well past sunset and the moon rose. The night was beautiful because it smelled of pine and the dog was sleeping next to them quietly.
The illustrator made the pictures with paint that has beautiful colors. My favorite picture is when Esperansa and her grandma where working at night because the picture has colorful mountains and a full moon. It reminds me of the movie "Spirit."
I recommend this book to people who take care of their grandma and live with their grandma. This book has different things that other books don't have like how Esperansa helps her grandma and other books are only action and do not show to help other people.