Molly Moon's Incredible Book of Hypnotism
Written by Georgia Byng
Reviewed by Daniel F. (age 10)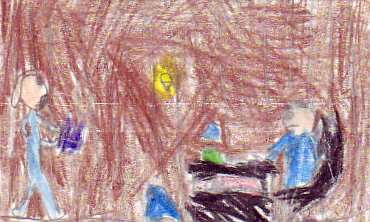 Georgia Byng is the author of Molly Moons Incredible Book of Hypnotism a book you will never want to put down. You'll be up reading it all night. I am reviewing this book because it has a lot of parts that are unexpected and suspense that makes you wonder.
Ever wanted to hypnotize someone to make them do something you want them to do? Well if you read Molly Moons Incredible Book of Hypnotism you will know what it feels like from Molly's point of view. The book Molly Moons is about a little girl named Molly who lives in an orphanage in a boring old town with a mean orphanage keeper named Ms.Adderstone, she shouts and almost makes you jump out of your shoes. One boring day Molly goes down to the library on her block and was looking in the Y section and found the book of Ypnotism. The dust fell off the "h" and now it said the book of hypnotism. When she gets home she starts reading the book and finds out how to hypnotize. She goes outside and meets her worst nightmare, Dr. Nockman. He is trying to get the hypnotism book to take over the world. Now Molly has to worry about the orphanage and a new enemy. You will have to read the book to see what Dr.Nockman has to say about Molly having the book he needs to take over the world.
I thought this book was really cool and there were a lot of parts that were funny like when Molly was predending to be sick and Ms.Adderstone sent her a note saying not to breathe on the food. "Ha-Ha!" My favorite part of the book was when Molly hypnotized Ms.Adderstone. Since she was a mean orphanage keeper, Molly made her say things like "I'm a worm brain!" or "I'm a bad orphanage keeper!" She also made Ms.Adderstone let Molly do whatever she wants. In the beginning, I didn't expect that the book was really the book of hypnotism; I thought it was just a regular book. This book reminds of times when I am so mad at my sisters that I just want to hypnotize them to just disappear.
I would recommend Molly Moons Incredible Book of Hypnotism to readers that like exciting books because my eyes were glued to every page. I strongly recommend this book to 4th-6th graders who are fantasy readers. I hope you enjoy reading about Molly and her adventure.