The Magic School Bus Inside the Human Body
Written by Joanna Cole
Illustrated by Bruce Degen
Reviewed by Schuyler T. (age 9)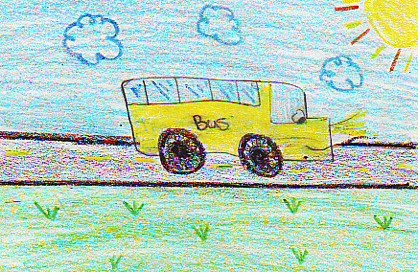 It all started with a filmstrip about the human body. However, the kids knew trouble was about to start because Ms. Frizzle was the strangest teacher in the school. The class decided to go on a field trip to a museum to see an exhibit about how the body gets energy from food. It was a normal field trip until lunchtime. Ms. Frizzle accidentally shrank the bus. Arnold, one of the students, mistakes it for a Cheesie Weesie and swallows it. The bus of kids and Ms. Frizzle end up exploring inside of Arnold's body.
I like this book because it's exciting. I like the part when the class gets stuck in Arnold's body because it looks fun. My friend is like Arnold because she is always scared to try something new. My favorite character is Ms. Frizzle because she is interesting and is fun.
I recommend this book to people who like adventures and learning about the human body. If you do like stuff like that you will like this book very much.