The Widow's Broom
Written by Chris Van Allsburg
Illustrated by Chris Van Allsburg
Reviewed by Marquis H. (age 10)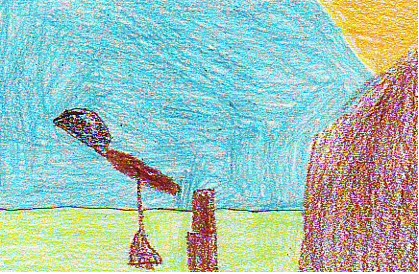 A widow names Minna Shaw finds an injured witch in her garden. She heals completely while at Minna Shaw?s house and is picked up by another witch and broomstick. Minna Shaw notices the healed witches broom was left behind and she teaches it to do chores. She tills Mr. Spivey about the broom and he thinks it?s wicked. One day the Spivey boys and their dog tease the broom and the broom knocks them on the head. Mr. Spivey demands to take the broom and it gets burned. It reappears as a ghost and haunts the Spivey?s. Read to find out the surprise ending.
I think The Widow?s Broom is so funny because the end is cool when the broom throw?s a dog in the air and it lands in the woods. I like Minna Shaw because she is smart and funny. She is a character who reminds me of a time I was lonely.
I recommend this book to people who likes brooms that can do stuff for them like play music one note at a time.