Henry and Ribsy
Written by Beverly Cleary
Illustrated by Louis Darling
Reviewed by Ian R. (age 7)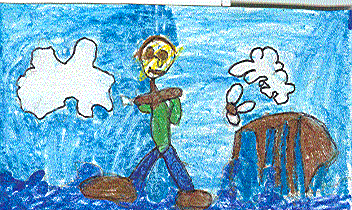 This book is about a kid named Henry and a dog named Ribsy. They have a couple of adventures together. In the first few chapters you think the dog is a bad dog because he tries to bite the garbage man, but Ribsy isn't really a bad dog. He's just trying to protect something. Ribsy keeps on misunderstanding things and getting in trouble. He doesn't misunderstand, though, when Ramona, Beezus's little sister, puts his bone in her lunchbox. He really does want his bone back!
I thought it was a very interesting book. I really liked it. My favorite part was when Henry caught the salmon. He caught it with his hands! I liked Ribsy, too. He was not trying to be a bad dog; he was just trying to protect Henry's stuff. The pictures were good, too. I liked the way they were drawn, and the way the pictures matched the story.
I think mainly second graders that are in a gifted class or third graders would like to read the book. It has 192 pages, so some people may not want to read a book that long. I think the part they would like the best is where Henry catches the salmon with his hands because he catches it with his hands and he's only a kid. It was also cool when he finally caught it because he picked it up very hard.