Who Cloned the President?
Written by Ron Roy
Illustrated by Timothy Bush
Reviewed by Vivian F. (age 8)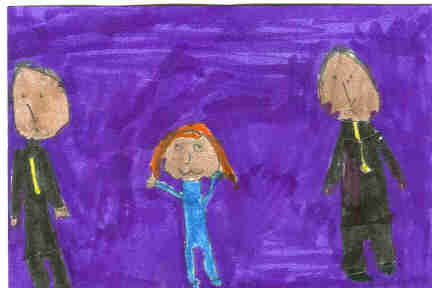 Who Cloned the President is about 2 kids named K.C. and Marshall. K.C. have to do a school report on President Thorton. While she is learning she flicks on the TV and sees President Thorton writing with his right hand. She knows something is wrong because President Thorton is left handed. The next night K.C. and Marshall sneak into the White House and start to look for clues. Soon they discover that President Thorton had been cloned. But who cloned the President?
I liked this book because it is very suspenseful and mysterious. K.C. and Marshall find a secret passage that leads them out of the White House because they are being chased by the criminals. I wonder if this passageway really exists? I think that K.C. and Marshall are very interesting characters because I can't imagine kids saving the President of the United States. My favorite part is in chapter 3 when K.C. and Marshall throw spiders all over Lincoln's bedroom to scare people away so they can look for clues. It was a funny scene to imagine everyone screaming and running all over the place.
I would recommend this book to people who like Ron Roy books and people who like mysteries. This is a good book for kids in second through fourth grade. If you like A to Z Mysteries then you will enjoy Who Cloned the President.