Inkspell
Written by Cornelia Funke
Reviewed by Amanda G. (age 12)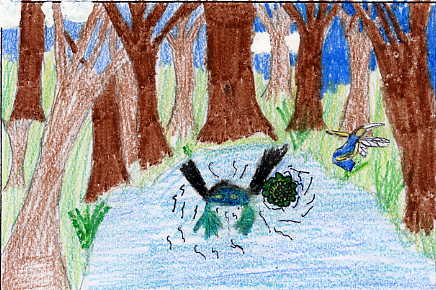 A year has passed, but Meggie still hasn't stopped thinking about Inkheart, the book that changed her life forever. This book has evil and good characters. Dustfinger, the fire-eater, has been read back into his own world again after 10 years of living in the other world. When he finds a crooked storyteller with the magical ability to read him back, Dustfinger leaves Farid who was read from the book Tales of the Arabian Nights. Farid goes in search of Meggie, and after a few nights at Elinor's house, they are both caught in the book together. In the book they meet Inkheart's author, who was also caught in his own story.
My favorite part in the book is when Meggie and Farid get read into the book, because you don't really know if they will survive the trip or if they will be caught between worlds.
I would recommend this story for about fifth grade or older, mostly because it is a little confusing. Even if this book is involved with fantasy, it is still awesome. This book is not like any other book because it is just so different. This book made me feel like I was actually there at the time that an exiting part suddenly happened. Cornelia Funke wrote this book as if she was really there and it happened to her. This story is so strange that it did not remind me of any thing in this world. For example, when a character died, he could be read back to life. This book's moral would be: Always dream and believe in fantasy.