Happy Birthday, Samantha
Written by Valerie Tripp
Illustrated by Robert Grace, N. Niles
Reviewed by Amanda S. (age 8)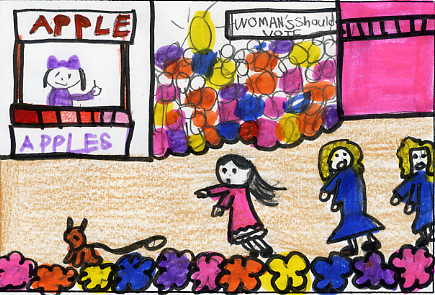 In the beginning, Agnes and Agatha woke Samantha up by saying, "Surprise!" Soon she was making ice cream. Eddie got the salt on purpose and put it in the ice cream! Soon the party was started and they ate the cake. When they tasted the ice cream, "Yuck! Bluck! Eew!" they said. When the party was over Agnes said, "Do you want to go to New York?" "Yes!" Samantha said. Then they went to New York and had fresh ice cream.
I think this book has a very fun birthday party. I liked the book because I like Samantha books. My favorite part was when they were making ice cream, because Eddie put salt in it. This book takes place in 1904. I like Samantha because she is the birthday girl. I think Samantha looks like me because she has black hair. There are illustrations of Samantha, her family, and friends. The pictures are in color. This book is part of the Samantha collection in the American Girl series. This book made me happy because I like birthday parties.
I recommend this book because the girls in this book are cute. It is a fun book where the puppy Jip runs away. My student teacher should read this book, since she watched the movie. I think when you see the picture where they are spitting the yucky ice cream you will laugh. If you read this story you will think Jip is cute. I recommend this book to people who like historical fiction.