Peter Rabbit
Written by Beatrix Potter
Illustrated by Pat Thompson
Reviewed by Mike L. (age 8)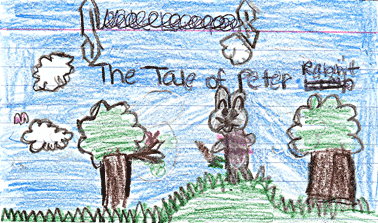 Peter enters Mr. McGregor's garden even though his mom told him not to go in there. Peter gets lost in the garden. Then he escapes after Mr. McGregor chases him away. When Peter gets home he is not only in trouble with his mom for disobeying, he is also sick. Flopsy, Mopsy, and Cottontail come over and they have milk and blackberries for dinner.
My favorite part of the story is when Peter gets home because he was scared in the garden. He is my favorite character because he is like me. I get into trouble too for not listening. There are four rabbits in the story and there are four kids in my family. The pictures help tell the story.
I think others should read this book becase it teaches you that you should always listen to your mom and you must always be careful.