Curious George Takes a Train
Written by Margaret and H.A. Rey
Reviewed by Esa & Jerl (age 6)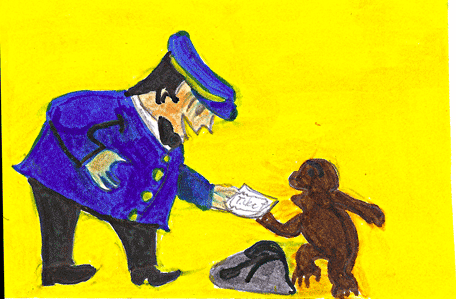 This is our summary of the book "Curious George Takes a Train. Curious George was a curious little monkey. He and his owner were rushing to catch their train. Some of the people were not rushing. Curious George wanted to help the train master and he did. He picked letters off the sign and put them in a different places. He messed up the arrival and departure times. The people did not know where to find their trains and when they were leaving. But as fast as George got in trouble was as fast as he could get out of trouble. When a little boy lost his toy engine and it rolled down a track with a train coming, George squeezed through the gate and he swooped down and grabbed the toy. George says the day.
We liked this book because we like all Curious George books. Also, we like it because you learn a lesson from this book.
This book would be great for kindergartners because it is funny and it teaches them to not walk away from parents and go in front of a train.