Rolie Polie Olie
Written by William Joyce
Illustrated by William Joyce
Reviewed by CarsenB&MeganS (age 6)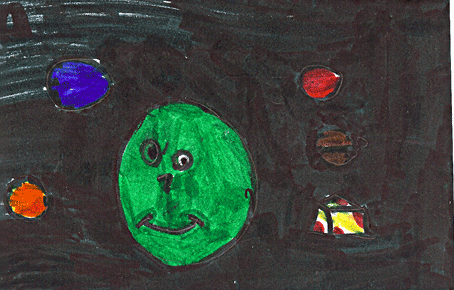 We chose "Rolie Polie Olie," because we love the television show and always watch it. When we skimmed through the book we thought it would be funny and we were right. Also the cover is really cool and the pictures inside are bright and colorful.
The book is about Rolie Polie Olie. He lives on alittle round planet and this is how he spends his day. First, he brushes his teeth and recharges his head. He does the Rolie Rhumba dance in underpants. When he does chores he jumps on the hip-hop mob and mopped the house from tip to top.
There is a lot of rhyming in the story and that makes it fun to read. It's also funny that they recharge their heads and dance in underpants. Their house is a teapot and the treehouse talks too.
We recommend this book to anyone who likes Rolie Polie Olie and who likes to read funny books with fun pictures.