Silly Sally
Written by Audrey Wood
Illustrated by Winsor & Newton
Reviewed by AleaL&AricaE (age 5)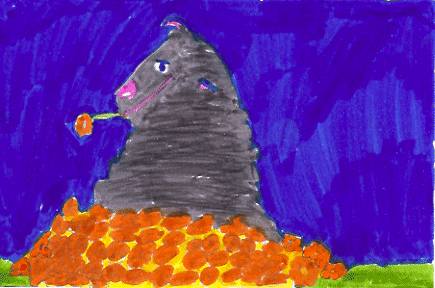 This book is about a girl who is named Silly Sally. She goes to town walking backwards and upside down. On the way she meets a sheep, a dog, a loon and a pig. They all fell asleep. Then Neddy Buttercup woke up the pig and he danced a jig. He tickled the dog who played leapfrog. He tickled the loon who sang a tune. He tickled the sheep who fell asleep. Then he tickled Silly Sally who woke right up then Sally tickled Neddy Buttercup. Thats how Silly Sally got to town, walking backwards upside down.
We picked this book because we liked the funny rhyming and stories. We also like sheep and there are sheep in Silly Sally. The pictures are really colorful and pretty.
We recommend this book to kindergartners or all young kids because they will really like how funny Silly Sally and her friends are.