Problems with Pete the Pencil and Eddie the Eraser
Written by Third grade students Kingsland Elementary School
Reviewed by BridgetA&JoyceW (age 5)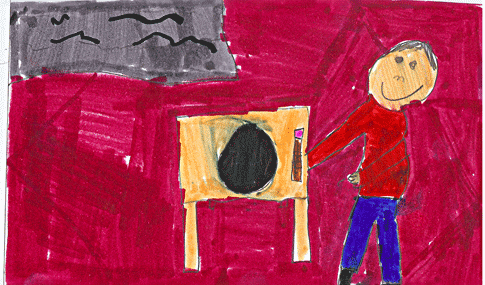 This book is very good because it is a good story and it has lots of pictures. In the beginning, Bradley is waiting for his mother. Bradley loves pencils. When his mother got home Bradley kissed the pencils. Bradley loves pencils so much that he can't wait to use them.
Then Bradley walks away from his desk and the pencil starts to write on his paper. Bradley was mad because he thought someone else did it. At the end, Bradley got all F's for grades and his pencil changed all his grades to A's. When he got home his parents yelled at him because they thought he changed his grades. Then Bradley almost broke his pencil.
We liked this book a lot because of the good pictures and the real good story. It would be good for 3rd graders because it would be easy for them to read and they would like the story.