Fed Up! A Feast of Frazzled Foods
Written by Barron Rex
Illustrated by Rex Barron
Reviewed by Jordan F. (age 9)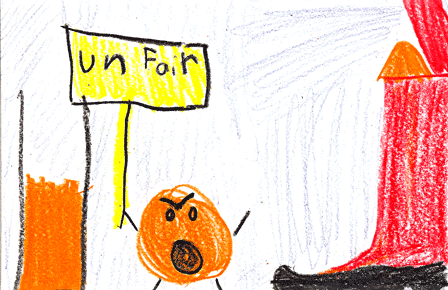 Fed Up is a great alphabet book about things like Anxious Apples and other funny fruits and vegetables.
Two of my favorite characters are Nauseated Nectarines and Objecting Oranges. Oranges are my favorite fruit. The Objecting Oranges are funny because the oranges are getting turned from oranges to orange juice.
One part is sad because the Cabbage is Crying over Coleslaw. The coleslaw is his friend that?s dead. The Dills Debate their Destiny which is to go in a jar and then into a mouth. Garlic is good, because when you gobble garlic the Garlic Gobbles Germs.
When you get this book you will want to keep it forever! If you like funny things, go to your library and get this book!