Two Bad Ants
Written by Chris Van Allsburg
Illustrated by Chris Van Allsburg
Reviewed by Brian L. (age 8) & Timothy T. (age 7)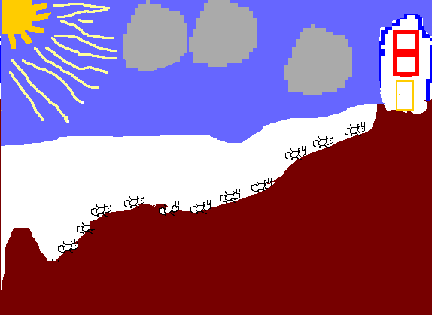 Do you like to go on adventures? Do you ever get into trouble? This is a story about two ants that did just that. It all started when all the ants found a crystal. They brought it to their queen. She took a bite of it then quickly ate the whole thing. She declared that it was the most delicious food ever tasted. She ordered the ants to get more of the crystals. The ant?s were determined to get them. They went through the grass which looked like a dangerous dark forest. They went on no matter how scared they were. Suddenly a giant brick wall blocked the way. They climbed until they saw a window. They went into a pot of crystals. To of the ants stayed behind and were so greedy that they ate as many crystals as they could until they fell asleep. The next thing they knew they were floating in a brown lake and a strong current was pushing them into a cave. Will they get safely on shore?. You?ll need to read the book to find out.
This book taught us not to leave your group and to listen to your leader. We think the illustrations are great because the pictures are very close up. The writing has lots of details.
We recommend this book to children who have gotten into trouble and people who like dangerous adventures.