Little Island
Written by Golden McDonald
Illustrated by Leonard Weisgard
Reviewed by Zack S. (age 8) & Chris A. (age 8)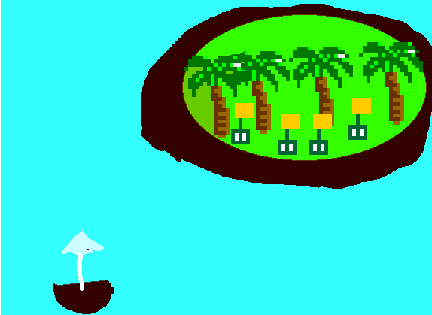 There was once an island. The island stood out up north. It was a popular place to be. Lots of gulls, lobsters, seals and many more animals come to this beautiful place. One day, a dark black kitten with blue eyes came to the island with his owners. This kitten is very insensitive, he does not care about others. In this story, the island and the kitten talk and fight. Why? Because the cat doesn?t think the island is a part of the world but it really is. So, the island says, "Ask the underworld". The underworld is the sea. The cat walks to the dark green underworld to see if he will get his answer but if the cat doesn?t get his answer, what will happen next? Read this book and find out.
This book shows that you should always have confidence in yourself and never give up. We like Golden MacDonald?s descriptions in this book because the words captured our attention. Our favorite part was when the storm hits the island because the description was very interesting. For example, "the waves were like big glassy mountains". We liked this book very much because it got us thinking and talking a lot and we loved the thinking and talking. This book has colorful illustrations. My (Chis) favorite character was the cat because the cat understands a lot of things. My (Zack) favorite character was the island because he never gives up.
We recommend this book to people who like islands, descriptive words, and beautiful language. This book has won a Blue Ribbon Award and a Caldecott medal in 1947. We think this book is a thumbs up book because this book taught us a lot of lessons.