The Stinky Cheese Man and other Fairly Stupid Tales
Written by Jon Scieszka
Illustrated by Lane Smith
Reviewed by Randi M. (age 8) & Victoria W. (age 8)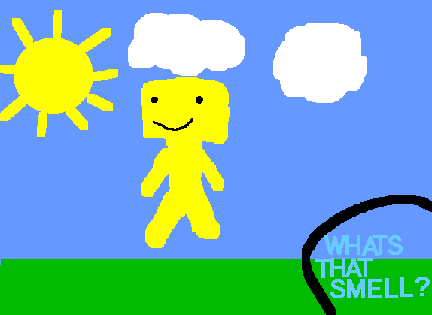 Did you ever think of being made of stinky cheese? This book is outstanding, hillarious, and a great comedy book. This book has lots of funny stories in it. Some of the stories are Jack's Story, Chicken Licken, Little Red Running Shorts, Jack's Bean Problem, Cinderumpelstiltskin, and the Stinky Cheese Man. Our favorite one of all is Jack's Story. We liked it because as you read along the words get smaller because Jack is being squeezed tighter. We also liked it because it has a funny narrator. Our other favorite one is Chicken Licken. That has Jack the narrator too. Chicken Licken thinks the sky is falling so he goes to all his friends and says, "The sky is falling. The sky is falling." We can't tell you if the sky really falls. You will have to read it for yourself. The author did a great job making these stories into jokes. The illustrations are outstanding but can look pretty wierd. You can just imagine the story.
We like the author because you will laugh so much you will get tears in your eyes and you will keep laughing for a week. This book reminds us of another book by Jon Scieszka called Squids Will be Squids. This book also has jokes in it and make you laugh.
We recommend this book to people that like hillarious stories. If you have a bad day or a hard day at school or work when you are done reading this you will feel better. If you like to laugh a lot this will be one of your favorite books.