The Night Tree
Written by Eve Bunting
Illustrated by Ted Rand
Reviewed by Jina O. (age 7), Jung Min O. (age 8) & Grace C. (age 8)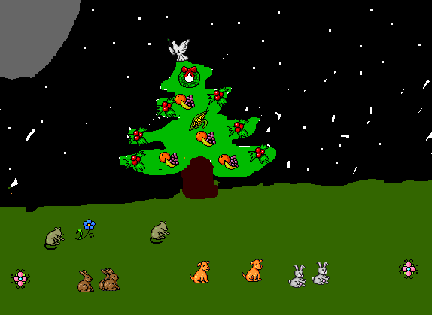 In a cold night, a family is taking a trip to find a perfect tree for Christmas. They will find a perfect Christmas tree in the forest. After they decorate the tree they sat down and sang songs. On the tree there are apples, oranges and honey combs for the animals to eat. To find out what the animals do when they find the Christmas tree, just read this book because it's a good book for Christmas and it is sweet.The lesson is be nice to the animals and protect them.This book is such an interesting book!
We like this book because we like to read and help animals. The illustrator is a beautiful drawer. The pictures look like real paintings. Eve Bunting is a great writer because a book we read is called The Butterfly House and they sound so beautiful. We like this story because it is a sweet ending. So, if you want to find this book go to the nearest local library.
People who like Chirstmas and animals would like this book.