Nate the Great and the Snowy Trail
Written by Marjorie Weinman Sharmat
Illustrated by Marc Simot
Reviewed by Kyle M. (age 8)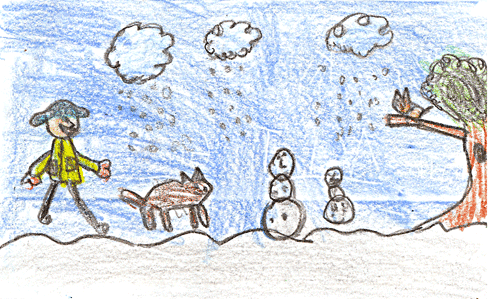 Nate the Great was making a snowman when Rosamond told him she lost his birthday present. Nate the Great asked Rosamond if she knew when and where it happened. He and Sludge pretended to be snow detectives and searched all over. Finally Rosamond said it had a birthday card on it. Nate the Great used clues and found the present in a tree. The present was a mean cat named Super Duper Hex. Nate the Great and his dog Sludge did not like cats so they gave it back to Rosamond.
My favorite part of the story is when Nate the Great finds out where the present is. I like this part because he is happy when he solves the case. He is my favorite character because he is smart just like me. I have been a detective too and have had to look for a remote when my mom couldn't find it. This story has pictures that showed me what was going on when I was reading.
I think others should read this book because it shows you how to solve a case. Another reason is because it is funny that Nate the Great can make a snow dog.