My Life in Dog Years
Written by Gary Paulsen
Illustrated by Ruth Wright Paulsen
Reviewed by Melissa C. (age 8) & Mehak A. (age 8)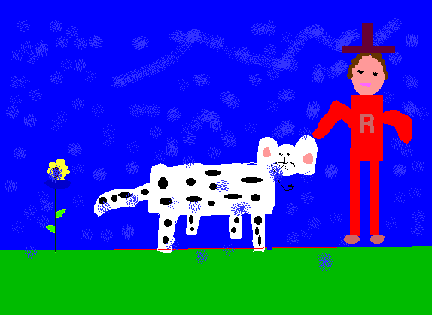 Did you ever beg your mom and dad for a dog or a puppy? Gary Paulsen had ten dogs but he didn?t have all the dogs at the same time. He had a sled dog, a little black puppy that had some little white spots, a border collie, and other dogs.
I (Mehak) read this book every day before sleeping. I read a chapter every day. I wrote down what the dog was like. One day I felt like reading ?Snowball? because it was Gary Paulsen?s first dog. Then I felt like reading ?Cookie? because it was on the first page.
You don?t have to read it in order. We could skip around. It has chapters about all the dogs he had. Each chapter has subtitles. They tell you about how every dog was to Gary Paulsen. If the chapter didn?t make sense then we reread it.
This book is good for people who have dogs or people that have begged their mom or dad for a dog. We recommend this book because we liked the dogs and because it had good leads. This book is good for second grade, third grade, and fourth grade. First graders cannot read it because it has big words. If parents read this to their kids they will have fun.