Toys!
Written by Don Wulffson
Illustrated by Laurie Keller
Reviewed by Luis M. (age 8), Glen D. (age 7)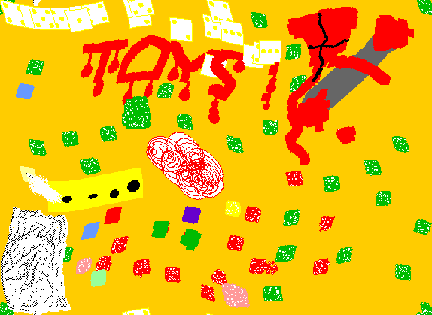 Here, in this book, are some fabulous inventions like toy soldiers, Twister, and Super Ball. This nonfiction book is about how people didn?t mean to make a toy but somehow they did, like Mr. Potato Head and Play-doh. For example, a kite was made for fishing, then they found other uses for it. They used it for a war and more serious things. Then they used it for a toy. This is an excellent book about how people made toys of different sorts.
We used our personal knowledge (but not all of it) to understand the book. We knew almost every toy except Raggedy Ann, Parcheesi, and (for Luis)...Silly Putty. I (Glen) was stopping and thinking and reading in chunks. I (Luis) was retelling it to myself. We both were saying it in our own words when we didn?t understand.
We like how the author writes the book because he put in a lot of titles and interesting facts. You can read each chapter title in any order. When you read this book you could tell there are a lot of facts. Did you know between 1949 and 1998 more than two billion Legos were produced?
When we wanted to find an interesting toy we went to the Table of Contents. We also like the illustrations. They are like cartoon characters and they talk in bubbles. The cartoon character says one thing about the toy.
I (Luis) think this book is the best for every age because it has good illustrations and it doesn?t have a lot of hard words and you could learn who made different toys. I (Glen) think this is an awesome book because you learn a lot of facts about toys.
If you like toys, this is an extraordinary book for you.