Dream Snow
Written by Eric Carle
Illustrated by Eric Carle
Reviewed by Amanda F. (age 8) & Catherine D. (age 8)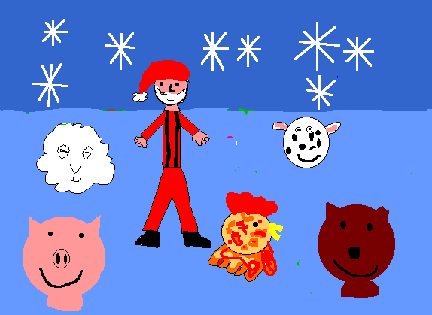 Here is a book that will make you f r e e e z e! It is called Dream Snow. Here?s a farmer...He has five animals. Their names are: One, Two, Three, Four and Five. One day when the farmer was done on his green, grassy farm , he fell asleep. He dreamed of white snow falling on him and his plump animals. One by one the animals got covered with snow. You can uncover them because the page is a clear, see-through sheet of plastic. When he woke up... We want you to wonder if there is anything special about the farmer. Watch out for the super duper surprise ending.
The colors on the pages are bright and they stick out when you look at them and they make you feel happy. We like the way Eric Carle uses special effects with paper. He makes collages by putting shiny, bright painted papers on top of each other. He doesn?t just use paints. You?ll see here and there, pen and pencil marks and bold letters and italics. Sometimes he even uses sparkly silver foil.
Have you ever heard Christmas music? Well, Eric Carle puts it in his wonderful book. Eric Carle put his dedication page on the back instead of inside the book like most authors do. He tells why he dedicated it to Barry Moser.
The clear plastic paper on the cover is not exactly a book jacket. It?s just clear paper with white dots from sponges. You can see the sponge lines.
If you like to hear the sound of Christmas and the sound of crackling snow, read Dream Snow because Eric Carle has creative ideas. It made me (Catherine) feel like I was in Alaska. It made me (Amanda) feel like there was a cold winter day on my back.