The Gardener
Written by Sarah Stewart
Illustrated by David Small
Reviewed by John H. (age 7) & Meghan D. (age 7)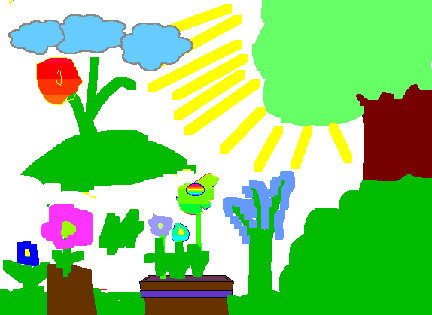 Have you ever planted so many flowers? Lydia has! Lydia is moving to her uncle's house for a year until things get better at home. Her father hasn't had a job for a long time. She writes to people like her mother, her father, and her grandmother. Lydia writes things about a big surprise that she is going to give to her uncle in her letters. While she is on the train she says, "The train is rocking me off to sleep, and every time I doze off I dream of gardens." Lydia loves to plant flowers. While she is at her uncle's apartment she gets seeds in the mail and uses them for the big surprise. If you want to find out what the surprise is you should read this book.
This book is a Caldecott winner. We were really surprised at the ending. We wondered why Uncle Jim never smiled. This story reminds us of planting in a garden in the summertime. We thought this book was good because the illustrations were colorful. This book is like no other book that we have ever read. Our favorite part was when Lydia showed her uncle the surprise. We liked that part because the pictures were so colorful.
We recommend this book to people who like to plant gardens because this is a story about planting. We think people should read this book because they might like the illustrations.