The Bear Who Didn't Like Honey
Written by Barbara Maitland
Illustrated by Odilon Moraes
Reviewed by Chris C. (age 7), Michael M. (age 8) & Nicole A. (age 7)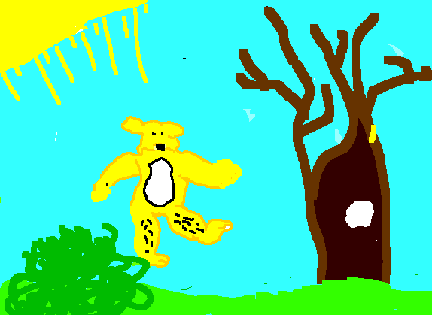 Little Bear didn't like honey. He was afraid of getting stung by bees. He was afraid of the dark, going in water, and afraid of heights. His brothers and sisters teased him by calling him "Scaredy Bear". One time when he was in the woods he heard a noise. It was a cub hanging on a branch of a tall tree. Little Bear climbed the tree and saved the cub. Little Bear realized he was brave and then he went to get honey. He wasn't scared when he got the honey and he liked it! Little Bear wasn't scared anymore and he was able to do what his brothers and sisters could do. Little Bear learned a lesson that he should try things before he says no.
Our favorite part was the time when Little Bear brought the cub down from the tree. Little Bear saved his life. We all think this is a good book because it is funny and Little Bear solves his problems. We hope you will like it too. We think the illustrations are very good, Odilon Moraes filled up the whole page with pictures. The author was very creative. We liked how she wrote the story. We felt that the book was excellent.
If you like gentle bears you will like this book. We recommend it to anyone who is afraid to try new things.