Junie B. Jones and BOO! and I mean It.
Written by Barbara Park
Illustrated by Denise Brunkis
Reviewed by Rebecca G (age 8)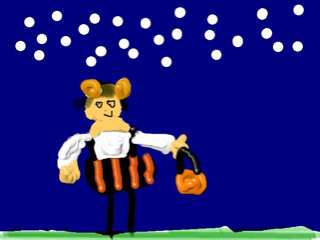 The book, Junie B. Jones Boo and I Mean It is about how Junie B. Jones is scared of Halloween because a boy told her five scary secrets about it and it is only a day away. So when Junie B. Jones' mother takes her to a Halloween store, June B. Jones has a crazy idea to be clown. She thinks clowns scare everyone including scary people. You have to read the book to see if things work out.
I loved this book because it was so funny when Junie B. Jones talks to her stuffed animal named Billy Bob Joe and tells him the five secrets about Halloween, even though she only believes the one that is true. Junie B. Jones reminds me of myself because I am just as clumsy as her sometimes. Junie B. Jones is an interesting little girl because she does not do natural things.
I recommend this book to everyone because once you read one of the pages you have to read more.