The Big Pets
Written by Lane Smith
Illustrated by Lane Smith
Reviewed by Marley S. (age 8), Samantha B. (age 7) & Evan D. (age 8)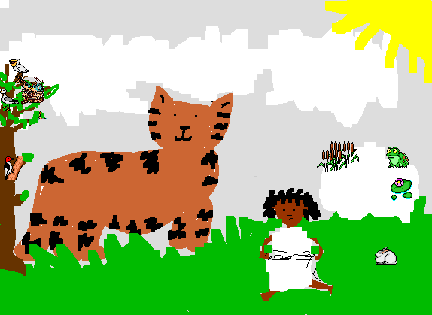 The Big Pets is about a girl and her humongous cat. Together they went to the milky pools and after when the girl comes out, the cat would lick her feet. They joined other kids and go to other places like Scratching Post Forest and String Vine city and a milky way in space. Well, almost in space. They play and play all night long and most of the day but then they have to take a nap for the rest of the day and night.
If you like dinosaurs and dogs you will think it is hilarious. If you want to find out the end of this book, you can zip to your local library and check out this book. You will think this book is so so fantastic and an incredible book.
We like this book because it makes laughter in your heart. If you like big pets you will love this book. The illustrations make you feel magical. Some pages make you get tears in your eyes because some pages are so beautiful and make you have happy tears. When we read this book we felt like our pets are humongous and we are small and the pets are big.
We recommend this book to all people because it is wonderful, fantastic and lovable. If you like it we would be very happy.