You Can't Scare Me
Written by R. L. Stine
Reviewed by D.M. (age 8)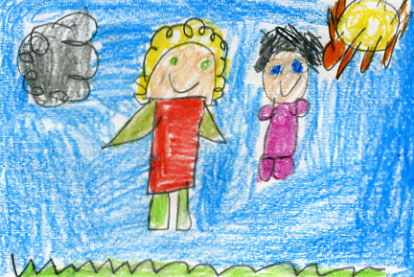 You must read "You Can't Scare Me". Eddie tries to plan a plan to scare Courtney. The place where the kids are living, rains every few days. Eddie has been trying to scare her for a while. Eddie plans to drop a tarantula down her back. Hat tries to drop it but misses. Hat and Eddie get in trouble. Charlene gets a dog and tries to scare Courtney. The Mud Monsters come to life! Will they get caught again?
My favorite part of the story was when the tarantula missed Courtney. First, Hat picks up a big, hairy tarantula. Many people don't do that. Also, you can't find a lot of tarantulas around there. I don't know where people find them. They live in a cold place. Tarantulas live in warm places. I like this book because Hat picks up a tarantula, how they found it, and where they found it.
I recommend this book to people who like scary stories. This story is about monsters covered in mud. You can get tricks to get revenge of someone. You can make a joke or prank backfire. You should read this book if you like scary stories.