The Magic School Bus: Space Explorers
Written by Eva Moore
Illustrated by Ted Enik
Reviewed by Brenna C. (age 8)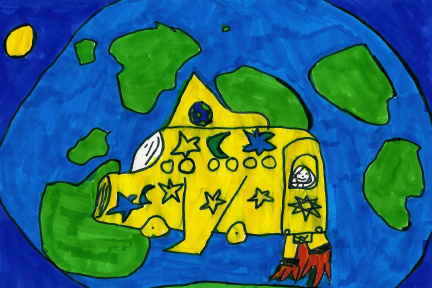 I read The Magic School Bus: Space Explorers. The main character is Carlos. He is in Miss Frizzle's class. Miss Frizzle, his teacher, is strange. The class can usually tell where they are going that day just by looking at her clothes. Her clothes are filled with whatever they are studying in school.
One of the strangest things in the book is that their bus turned into a space bus and flew into outer space. They went to other planets and learned about our amazing solar system. The class also lost their robot dog in outer space.
This book was interesting to me because I wish I could go to outer space. I also liked the part where they land on Saturn. Saturn is my favorite planet because it is pretty. On Saturn, the class looked at Saturn's rings and looked at Saturn's moon called Titan. They thought that they were lost.
I also liked when they went through the asteroid belt and went to the other planets.
This book has good descriptions about different planets. It also has nice illustrations to describe what the class is doing. I like how the author describes how Miss Frizzle dresses.
My favorite character is D.A., which stands for Dorothy Ann. I also like Charles and everybody else in the class, plus Miss Frizzle and Liz. I like Dorothy Ann because sometimes she can be funny and sometimes not. D.A. is a really smart kid, especially with math and science.
This book would be good for kids in first grade up to third grade. This book would be good for people who are interested in learning about space and who like books about the Magic School Bus.