Harry Potter and The Goblet of Fire
Written by J.K. Rowling
Illustrated by Mary GrandPre
Reviewed by Taylor B.D. (age 9)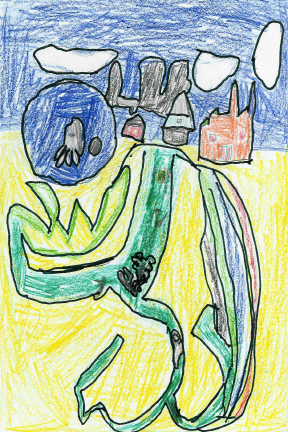 In this book, the main character is Harry Potter. Harry is a wizard in his fourth year at Hogwarts. This book took place at Hogwarts, which is a wizard school.
Harry got picked for the Triwizard Tournament, but you're supposed to be eighteen years old to compete and he isn't even seventeen. The Triwizard Tournament has three tasks. The three schools participating in the tournament are Hogwarts, Durmstrong, and Beauxbatons. Each school selected one person to compete, except Hogwarts got to pick two people, Harry and Cedric. The other two kids from different schools were Krum and Fleur. Krum is the best seeker in the world. A seeker is someone who catches the snitch (the ball) in Quidditch, a magical sport.
One of the problems in the book is that the tasks at the tournament are really, really hard. Another problem is that Harry didn't put his name in for the tournament.
I thought this book was cool because it had lots of magic. I also liked it because it had lots of problems in it. It also has lots of details, such as how Harry feels.
One of my favorite parts was when Sirius' head appeared out of the fire when Harry Potter put a piece of paper in the fire. My second favorite part was when the dark lord, Voldemort, came back to power and killed Cedric. My third favorite part was when Harry got bitten by the giant spider.
I liked Harry because he knows the most magic and is the bravest in the book. My favorite character is Ron, because he's the coolest kid. My second favorite character is Hagrid because he's a giant, so magic doesn't effect him.
I recommend this book to second graders and up because the book is hard to read. I recommend this book to kids who like to read and to kids who like magic.