Pig Will Be Pigs
Written by Amy Axerod
Illustrated by Nally Mcginley
Reviewed by Arden K. (age 7)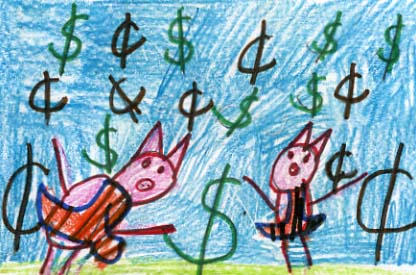 This book is about Daddy Pig, Mommy Pig, Sister Pig, and Brother Pig. They don?t have any money, and they are going out for dinner. So they are going around the house hunting for money. It takes place in the Pig?s house.In the beginning, the Pigs are all hungry and the refrigerator was empty. Then they decided to go out for dinner. So they searched around the house for money. At the end, the Pig?s found enough money all over the house to go out for dinner.
I enjoyed this book because the pictures are hilarious and the story is funny. It is silly to think about pigs wanting to go out to eat. You can read and learn about money at the same time. The pictures make a silly story even sillier. The book made me think about going around the house and seeing if I could find a lot of loose change.
I would recommend this book to first graders who like to count money. It?s fun to read and learn.