What Does Bunny See?
Written by Linda Sue Park
Illustrated by Maggie Smith
Reviewed by Amber and Jozie (age 7)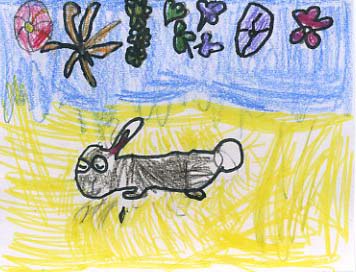 This story is about colors and flowers and a bunny rabbit. Bunny sees red scarlet poppies blooming. She also sees yellow primroses. Purple violets nod their heads. If you want to know what else Bunny sees, you can read the book!
We like all the colorful pictures in this book. We also like the story because there are not a lot of words on a page, so you can look at the pictures longer. The pictures remind us of summer because of all the flowers and the rabbit reminds me of when my rabbit bit my hand. The bunny in the story is just like my rabbit. The story was exciting because we did not know what the bunny would do next.
We think first and second graders would probably enjoy looking at the pictures in this book and they would like reading about the bunny. They will learn about flowers, too. We think first graders would like the colors and the flowers in this book and it is not too hard to read except some of the flower names are big words.