Because of Winn-Dixie
Written by Kate DiCamillo
Reviewed by Jessica H (age 9)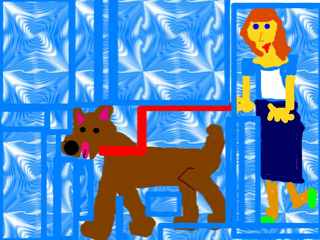 Because of Winn-Dixie is about a girl named India Opal finding a dog in the Winn-Dixie supermarket and adopting him. Then Opal names him Winn-Dixie. After all of the details, Opal finds out that her dog can understand her. Opal and Winn Dixie have a lot of fun especially when it comes to making new friends. One friend and Opal had a block party and all of their friends came. Then a surprise comes to Winn-Dixie and to find out, you'll have to read the book.
My favorite part was when Opal met Winn-Dixie because it is interesting and funny at the same time. Opal was a character that reminded me of myself because I would have done the exact same thing if I'd found Winn-Dixie.
This book was really special because it developed a unique feeling that allowed the reader to be absorbed into Opal's life. I found Winn-Dixie as my favorite character is Winn-Dixie because I like how she can make friends and get in trouble at the same time.
I recommend the book because it gave me a laugh and I think it will for you too. I think you would like the book more if you were a girl because of the connection with Opal. I think what would interest readers most is Winn-Dixie because the way the author describes her actions is so cool. Happy reading!