Clifford wants a Cookie
Written by Norman Bridwell
Illustrated by Norman Bridwell
Reviewed by Matt & Emily C (age 6)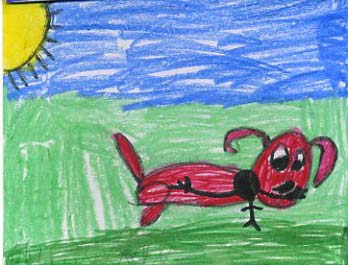 This is a book about Clifford the big red dog. Clifford is hungry for a cookie. He tries to get one at the bakery but it is closed. Emily Elizabeth tries to make him cookies. She mixes the ingredients while Clifford watches. Will Emily make good cookies? Will Clifford get one?
I like Emily Elizabeth because she tried to make cookies for Clifford. It reminds me of when I made cookies with my mom. I like the illustrations of Clifford thinking of cookies because I like to think about lunchtime when I am at school. I have the same name as Emily and I wish I had a dog like Clifford to play with. My favorite part of this story was when Clifford finally got to eat a cookie.
I recommend this book to everyone who likes dogs because Clifford is a famous dog. I think you will like this book if you like stories about Clifford. If you like to eat cookies, you will like reading this book.