Clifford's Hiccups
Written by Norman Bridwell
Reviewed by Hunter and John (age 6)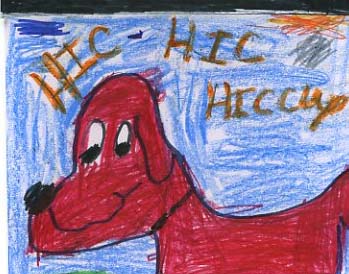 This story is about Clifford's hiccups. First, Emily heard a noise that woke her up. Then, she saw it was Clifford who had the hiccups. Then Emily and Clifford went downstairs. Next, Clifford had a big hiccup and orange juice went all over Mr. Howard. Mrs. Howard said maybe he should see a vet. Will Clifford cause more problems with his hiccups?
My favorite part was when he hiccuped and orange juice covered Mr. Howard. That reminds me of one time when I sneezed when I was eating and food went everywhere. My favorite character is Clifford because he is red and he is in a lot of books. I like the shape of this book because it looks like Clifford's body. Clifford reminds me of when I got the hiccups. I was happy for him when he got rid of his hiccups, because hiccups are really annoying!
I recommend this book to people who like big dogs because this story is about a big dog. Anyone who likes Clifford should read this funny book!