The Bravest Dog Ever: The True Story of Balto
Written by Natalie Standiford
Illustrated by Donald Cook
Reviewed by Megan & Dominic (age 7)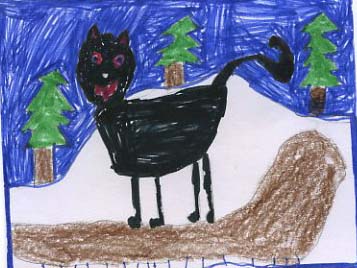 This book is about a dog who saves peoples lives. It starts when two children in Alaska get very sick and the parents call the doctor. There is only one doctor in Nome, Alaska. The doctor says the children are very sick and need medicine from far away. Alaska is covered in snow and a car cannot get to the place where the medicine is. The doctor calls the sled dogs to go get medicine for the children. The dogs go and get the medicine. The brave dogs come back with the medicine. Will the children get better?
I liked it when the dogs got the medicine because they got to go with a big sled. The sled reminds me of sledding, which I love to do! I also liked it when they built the statue of Balto. I think people would like to look at the statue and remember Balto for a long time. The illustrations of dogs are my favorite because they remind me of my old dog, Scruffy. My dog didn't like snow, though! The character I liked best was Balto, the dog. I like him because he is a leader and he is brave like my dog Scruffy.
I recommend this book to people who like dogs because the story is about a dog who does an important job. I think my grandma would like this book because she likes dogs, and she likes stories about dogs.