Dragon Rider
Written by Cornelia funk
Illustrated by Cornelia Funke
Reviewed by Mallory L (age 9)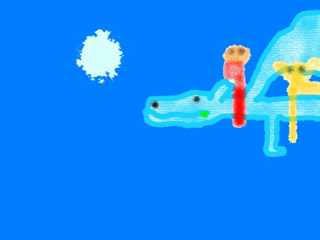 This is a magical tale about adventure and faith. The main characters are: a dragon named Fire-drake, a brownie named Sorrel and a human named Ben. They are on a quest to find the rim of heaven. The rim of heaven is a place where dragons can live in peace forever. Another character called The Golden One is also looking for the rim of heaven, not to live in peace forever, but to eat all the dragons that live there. The Golden One is given directions by his faithful servant Twig-leg who wriggled his way into Ben's heart so he can follow every move they make. Will Fire-drake make it to the rim of heaven in time? Find out in Dragon Rider.
I like this book because it had nerve-racking moments such as the time Fire-drake could not find a place to land and the wind was blowing him down. I enjoyed the illustrations even though they are not in color. One illustration in particular shows a four armed brownie!
I recommend this book to adventure lovers because Fire-drake and his friends must travel around the world, and they must travel through danger to save the dragons.