New Student Starfish
Written by Jenny Miglis
Illustrated by Heather Martinez
Reviewed by Ryan C. (age 8)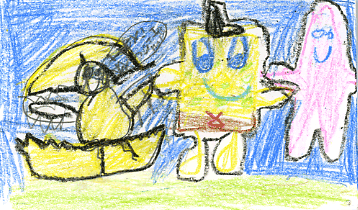 Patrick goes to school with SpongeBob. Patrick sees a star chart. He wants to get a star, but SpongeBob keeps getting all the stars. Patrick gets jealous. They call each other names and get mad at each other. Then the light bulb goes out in Roger's nest. SpongeBob goes and keeps Roger warm while Patrick gets a different light bulb. They save Roger and are friends again.
My favorite part of the story is when SpongeBob and Patrick save Roger because they use good teamwork. My favorite character is SpongeBob because he is hilarious. My least favorite character is Plankton because he is evil. I really liked the pictures in the book because they helped to tell the story.
I think others should read this book because it is really funny. It also teaches an important lesson about friendship and teamwork.