Volcanoes! Mountains of Fire
Written by Eric Arnold
Illustrated by Doug Knutson
Reviewed by Peter B. (age 9)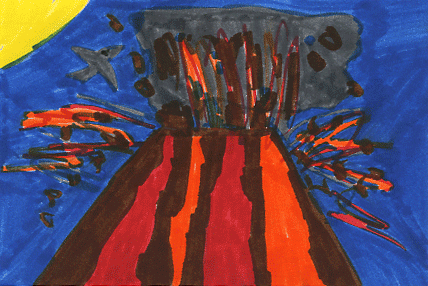 On Sunday, May 18, 1980, Mount St. Helen's, a volcano in Washington State erupted after being asleep for 123 years! The eruption was exciting and scary. No one knew what kind of damage the volcano would do. A pilot named Bruce Judson was able to see it while he flew by. After the eruption, his plane was going to be surrounded by a dark ash cloud. He knew he had to get away so he dives his plan to gain speed. Does he escape? In the small town of Yakima, day turns into night as the ash cloud blocks the sun. A family is trapped in a cabin, will they ever escape? Will they survive? Volcanologists tried to warn people that St. Helens was going to erupt. Did anyone listen? What else can these scientists of volcanoes tell us about volcanoes? Read this book to find out.
This book is full of interesting facts about the eruption of Mount St. Helens. I never knew there was a volcano in the United States! This book is great and exciting because it tells what really happened to the people, animals, and the land that is close to this volcano. I love to learn about things that really happened. This book is special because it not only tells about what causes an eruption, but also tells us how the people and animals that lived near it reacted when it happened. When I read this book, I felt very lucky not to live near a volcano. I would not want to have to live through what the people in this book went through. When I think about it, I wonder why anyone would want to live near a volcano!
I recommend this book to anyone that likes to learn about volcanoes. It gives great information about how volcanoes erupt and what happens when it does. This book has great illustrations and photographs of the eruption and the damage it caused. You get a good idea of how scary it must have been to live there.