The Fran That Time Forgot
Written by Benton Jim
Illustrated by JIm Benton
Reviewed by Nolan F. (age 7)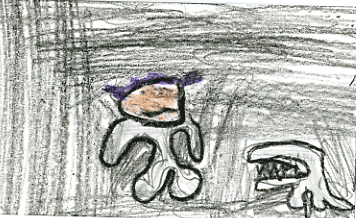 This book is about Mad Scientist Franny who goes back in time to change her middle name. She travels back to her babyhood to change "Kissypie" to "Kaboom". Next Franny goes to the future to see herself as a teenager. Franny learns that the name "Kaboom" has made her evil. Franny fights herself as a teenager and wins. Franny learns it is not a name that makes you evil, it's your attitude. She realizes her name is funny and learns to laugh about it.
I like the whole book because it is an exciting book. Franny is my favorite character because she likes science like I do. This story relates to my life because I wish I could go back in time. The pictures help tell what's going on.
I think others should read this because it is a good book. It teaches you to accept what you have been given.