Bailey School Kids: Mrs. Jeepers is Missing
Written by Debbie Dadey
Illustrated by John Gurney
Reviewed by Josiah S. (age 8)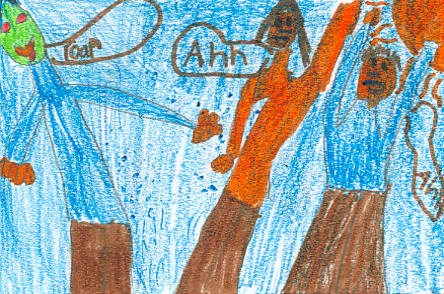 Mrs. Jeepers invites her students to a barbecue and it starts to rain. Then they go inside and there are cobwebs and it is dusty. Then all of the kids are scared. Why do you think they are scared? Some of the kids go on a search because the teacher is missing. The kids get startled by one kid who found these monster masks. He put one on that was ugly. That's how he startled the kids. Some of the kids stay in a corner in the house. Then the kids that were on a search went to the basement and they see a green thing. Do you think they find the teacher or not? You should read this book to find out the answers above!
I liked this book because it was scary and funny. This book has great descriptions like, "The candle light flickered and danced as the kids descended into the drafty basement." The descriptions help me see what's going on in the book. My favorite part was when the kid got startled. His reaction was really funny. My favorite character was the teacher because she wore a green light on her necklace. My mom's favorite color is green, so she kind of reminded me of my mom.
I recommend this book to kids and grownups that like Fantasies. I like this book because I like Fantasies. This book is a part of Bailey School Kids. It is a part of the real series. It's not like the skinny books, it's one of the big ones.