Hank The Cowdog - Case of the Halloween Ghost
Written by John R. Erickson
Illustrated by Gerald L. Holmes
Reviewed by Courtney L. (age 13)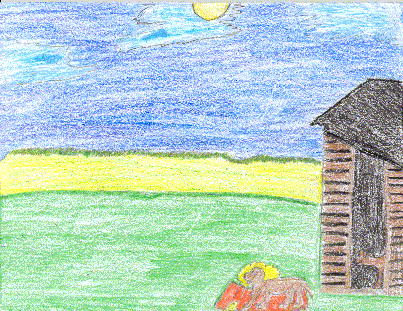 This book is about two dogs named Hank and Drover. They are out and about trying to figure out what a sound is that is waking them up. The two dogs go over to a Slim?s house. They had to go outside in the backyard to investigate the sounds. To find out what happens at the end you?ll have to read the book. There is a lesson to be learned -never get too curious about mysterious sounds, especially in the dark.
I think the book is really good and I liked the book because it had to do with Halloween and two dogs. I love to read about dogs. My favorite part in the book is when the trick-or-treaters chased Hank and he got scared. The reason this is my favorite part is because Hank is really funny and he is a dog that is frightened easily. There is one character that changed in the book and it was Drover because he wasn?t scared any more. This book is one of a series and it is really interesting if you sit down and read the book.
I recommend this book for any audience to read. I think all ages would enjoy reading this book because of the humor. The story might interest readers that are in the age groups from 4th?6th Grade.