The Giving Tree
Written by Shel Silverstein
Illustrated by Shel Silverstein
Reviewed by John M. (age 11)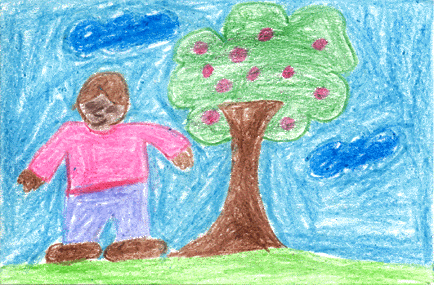 This story is about a tree that is friends with a boy and they play together and the tree lets the boy climb her trunk and eat her apples and play in her branches. Time went by and the boy got older and the boy didn't visit the tree in a long time. One day the boy came to visit the tree and the tree was happy and she said "come play with me boy" and the boy said," no I don't want to play I want money. Do you have money?" The tree said, "no I don't have money but you could take my apples and sell them in the big city". So the boy did. And the boy stayed in the city for a long time and didn't come back to see the tree. Then one day he came back and the tree said, "come boy come play in my branches", and the boy said "no I can't play in your branches. I am too tired. I want a house, a wife and kids. Do you have a house?" The tree said no but you could chop down my branches and build your own house and be happy. If you want to know more about this book you're going to have to read it yourself by going to a library and picking it out.
This book is very nice and enjoyable. I like this book because it has a good ending. My favorite part of this story is when the boy climbs the tree's trunk and plays with the tree. I like the tree because it gives the boy what he needs like if the tree were a mother. What I like about the illustrations is that they are colorful. This book is not like any other book I have ever read because it shows me how to be a good friend. I felt happy while reading this book. This story reminds me of my best friend, which is what the tree was to the boy.
I think that other people would like to read this book because it is a very nice story. I think people who don't know how to get a friend or people who don't have a friend should read it because it could show them how to get a friend. I think that adults would like it too because adults also need friends.