I Hate my Best Friend
Written by Ruth Rosher
Illustrated by Ruth Rosher
Reviewed by Skylarr A. (age 12)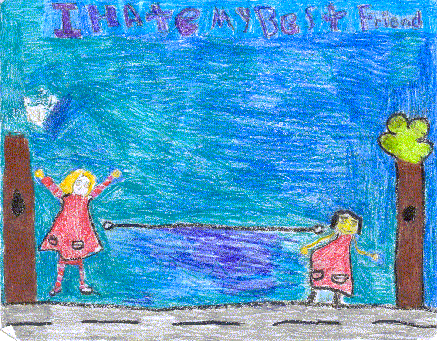 This book is about Annie and Nina who are super best friends and do everything together. They always swing on the horse swing and sing loudest in after school chorus and bring peanut butter sandwiches for lunch. But one day Nina says that horse swings are for babies and that peanut butter is boring, and she even quits after-school chorus! You'll have to read the rest of the book to find out what happens to Annie and Nina.
This book reminds me of my best friend and me because we used to do everything together but then we got mad at each other for a very long time. There was a character that changes. It was Nina because she did not tell her friend that she was not friends with Annie, so they were mad at each other. The illustrations in this book are fantastic because it really told the story. My favorite character in the book was Anna because she acts like I do. I have also gotten in a fight with my best friend.
The kind of reader that would like to read this book is a person who likes to have a friend and then will hate each other later. It is a fiction story, you should read it if you like to read short stories about super best friend. I think students in grades 3-6 would like to read this book.