Wild Bill Hickok
Written by Carl Green
Illustrated by Kansas State Historical Society
Reviewed by Brandon A. (age 11)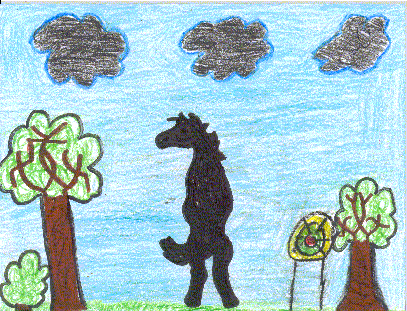 Wild Bill Hickock is a story about a young man who grows up to be an Indian scout and a great sheriff. He fights crime, Indians, and sometimes his own friends. If you would like to find out what happens to him you might want to read this book.
My favorite part of this book is when he wins a competition. I like this part because it shows that you do not have to be an adult to do something you want to. Wild Bill changed because at first he just wanted to join a group of cowboys who wanted to stop slavery, but ends up being a sheriff. I thought this was a great book because of it?s action. I think this is a special book because it contains suspense that keeps the reader always wondering what would happen next.
I recommend this book because I thought that the way the author wrote the story made it more interesting. I would recommend this book for readers who like action and suspense. The part where he almost dies would probably interest readers because it?s suspenseful.